The "Silvio's Pigeon Times" Newsletter by Silvio Mattacchione
Progress Through Genetics!

Newsletter Archives
"Spanjaards" So What Are They Really?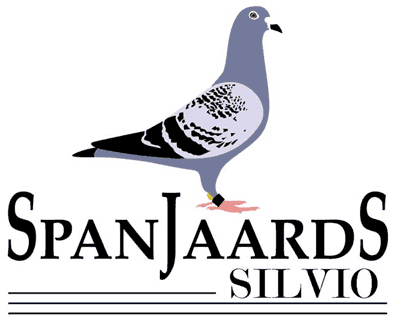 From 1989 to the present time I have spent an incredible period of time researching the origins of what are now commonly referred to world wide as "Spanjaard Janssens." Mr. Spanjaards was Dutch,a small team flyer that came to National prominence in 1977 when one of his hens won First National Orleans in Section 4. He died of terminal cancer on December 6th, 1990. In 1990, the entire Spanjaards loft-old birds, race team youngsters totaling 64 birds, plus ten Klaks, were imported to Canada by a friend of mine. The Klaks and some of the Spanjaards were sold in two separate sales in New Jersey and in California along with quite a number of Smeulder's pigeons. However, over time, the bulk of the Spanjaards pigeons were eventually retained by me.
Most people have come to believe that a Spanjaards is a Spanjaards. That they were somehow a homogenous family of pigeons. This however in not accurate. Essentially what came to be (mostly through my efforts) recognized as Spanjaards Janssens were not really a family of pigeons as such. The birds, as cultivated by Gerrit Spanjaards, were certainly of a uniform and consistent type, but they were not an inbred family cultivated over decades.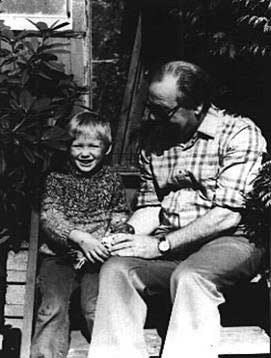 Figure 1 Gerrit Spanjaards with his Grandson Danny.
Mr. Spanjaards had several lines from many different sources and these included a line, now generally refered to as the "058" line who was a son of Spanjaards "969" that in turn was a grandson of the legendary "Oude Merckx." He had another line that was a Smeulders line that originated with a Smeulders bred youngster (raced by Spanjaards) eventually called Champion "13" that was 4 times 1st in the CC Mill. He had Janssens like "555" and "554" that were from the Janssen Bros, but these are not to be confused with the very famous "Janssen Bros" of Belgium.He had also crossed some of his birds with a Muleman hen, I remember, as well birds (including a beautiful Mealy hen) that were of the Van De Flaas line and certainly Klaks as well as pigeon of Noel Coolen. So we can see that generally ( but not exclusively) the birds were Janssen in origin but from many different sources and lines.
Now because I have the pedigrees of every single Spanjaard pigeon imported into Canada after the death of Mr. Spanjaards I studied these pedigrees very carefully. I purchased as many of the Spanjaards as possible but eventually culled all but one line. That is it one specific line and only from one specific pair of pigeons. So when I refer to "Spanjaard Janssens" you need to understand that in my particular case I am, in my loft ,only working with the inbred descendants of "one pair of pigeons"! That's it one pair!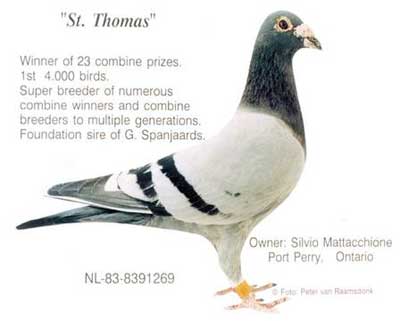 Therefore for the record my foundation cock was "St. Thomas" (NL-83-8391269) and his original mate, "Deanna" (NL-84-400753) (blue hen), granddaughter of the 1975 lst National Orleans winner against 14,000+ birds. This pair was not part of the Spanjaards colony that came to Canada after the death of Mr. Spanjaards in 1990 but had already earlier been purchased from Mr. Spanjaards by Mr. Randall Berkey. I arranged to purchase this pair from Mr. Berkey in 1992. Others included "St. Thomas' (NL-83-8391269) daughter, NL-85-567883 (blue hen), winner of 37 combine prizes in four years; "The Fighter" (NL-87-8717935) (blue cock), a direct son of "St. Thomas" (NL-83-8391269) and winner of 25 combine prizes including a lst Combine against 1200 birds; "Zeus" (NL-86-455451) (blue cock), another super son of "St. Thomas" (NL-83-8391269) and the winner of 41 combine prizes including 4 x 1st; "St. Mathew" (NL-89-2692463), another son of "St. Thomas" (NL-83-8391269) and the sire of "Victoria" (CU-90-STO-0577) who was 2 x 1st Combine, 2 x Equal 1st Combine, 3rd Total Points Combine Champion in 1990, and 1st Total Points Combine Champion in 1991; "St. Stephanie" (NL-89-2692462) (blue hen) daughter of "St. Thomas" (NL-83-8391269), breeder of lst Combine for me in 1994 when mated to "Star Storm" (NL-87-1588585); "Mustang" (NL-87-1587928) (blue cock), another son of "St. Thomas" (NL-83-8391269) and winner of 21 combine prizes who was later sold by Gus Tzotzos Taiwan; "St. John" (NL-86-455477) (blue cock), another son of "St. Thomas" (NL-83-8391269), bred for stock by Mr. Spanjaards and "St. Joan" (NL-89-2692470) (blue pied hen). These birds as well as many other direct children of "St. Thomas" (NL-83-8391269) from several inbred father x daughter matings formed the focus of my Spanjaards line. Therefore the total focus of my entire Spanjaard operation has been the creation of a line of pigeons based upon only one pair these being "St. Thomas" (NL-83-8391269) and his original mate, "Deanna" (NL-84-400753) no one else in Canada or the USA or virtually any other place can say that this is what they have done.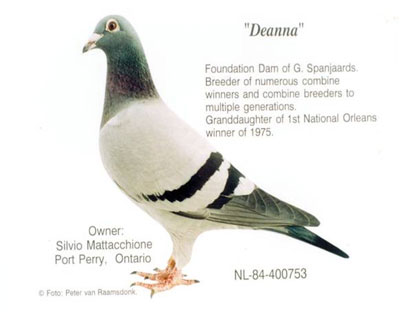 Okay, so now we know that I began my line or family at the very point were Mr. Spanjaards ended his work. Would he have gone in the direction that I chose to go in? Would he have placed all of his future on one pair of pigeons and would he have inbred that pair to the degree that I chose to do? Most likely not because he was focused in another direction. Mr. Spanjaards was a competitor, first and foremost and I was not fascinated by competition rather I was motivated by the great desire to breed a family, an inbreed family, an inbred family from only one pair.
In 1992 I wrote the following:
"If individual birds were great paintings then one could consider Mr. Gerrit Spanjaards in the same spirit as that other great Dutch master, Vincent Van Gogh. Both created wonderful images, reflections of their own inner souls. So it is in this spirit that I now pick up Spanjaards' brush and continue his work. I will add my own strokes, remembering that the brush and paints were his."
I give full credit to Mr. Spanjaards as the "source" of my loft and breeding program however there is no doubt that I have created a family around one pair and that this family is unique to my vision and my understanding of what a "family of inbred pigeons" should be. There is no doubt, in my mind, that no one else in the pigeon fancy would have made the breeding decisions that I made. Without my concentrated study and efforts this line would not exist today!
Silvio's Spanjaards are the Line of The "Kanon"
Figure 2 A rare photo of Smeulders great champion "Kanon" 23 X 1st!
Where Did the St. Thomas Line of Silvio Spanjaards Originate?
Family Tree: "Kannon" (H-67-766379) Line
This chart shows the pigeons of the "Kannon" (H-67-766379) line leading up to our foundation Spanjaards/Janssen cock, "St. Thomas" (NL-83-8391269). The "Kannon" was 23 x 1st, and bred by Wout Smeulders. Kannon was Smeulders greatest racing and breeding pigeon. "St. Thomas" (NL-83-8391269) is, a throwback to the "Kannon" (H-67-766379)-same color, soft powder blue whiteflight, same apple body, same head, etc., even though his sire, "13", was a rangy deep checker. It is curious to note that the three top lines in Europe were, in fact, descendants of the "Kannon" (H-67-766379), his full-brother, H-67-630132, and a half-brother, "Olympiade 08" (H-68-2070608). This chart reads from top to bottom.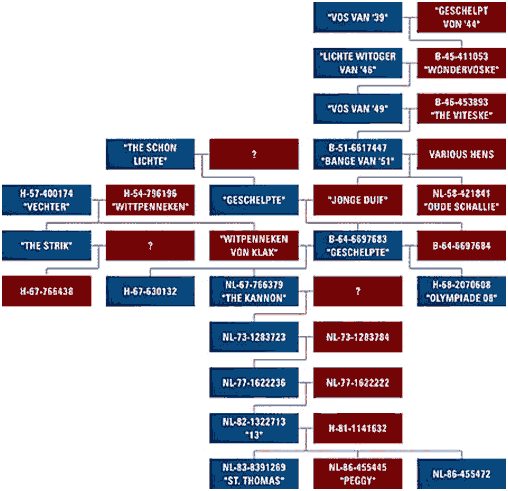 So as you can clearly now see, from the chart above, that the one Spanjaards pair that I choose to intensely inbreed was in fact a descendent of Wout Smeulders incredible "Kanon". So my line of inbred Spanjaards are a continuation of the line of the "Kanon" which means that they are part of an incredible group of pigeons that historically have their genetic origin in an incredible pair of Klak pigeons known as the "Vechter X Witpenneke."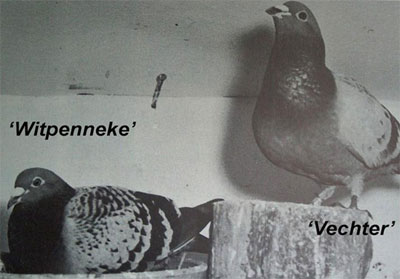 This is possibly the greatest pair of Janssens ever. Only thorough research of the progeny of this pair will lead you to understand just how great!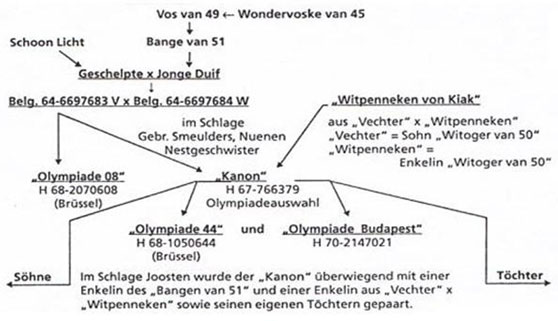 The Perfect Janssen Cross
I have often written that the ideal cross is that pigeon that is the product of the crossing of two inbred lines or alternately using an extremely inbred individual as an outcross. Most people in Canada and worldwide laugh at the concept but in so doing they only expose their own ignorance of the role that genetics can and should play in their own overall plans for success. Ahh - that is it, is it not, after all what can you really expect to learn from fanciers who have a breeding philosophy that they themselves sum up as "I breed best to best and hope for the best." What does this really mean? Well it means that these fanciers have "NO PLAN" and depend totally on "CHANCE."
Having stated the above in 2007 I was asked by one Gardi Gamboa of Pickering to breed entries in partnership for Canada's largest one loft race, "The Empire Classic" for 2008.I had not personally tested my inbreds for almost 10 years and many contestants used the opportunity to scorn both my pigeons (even though few have ever seen them), my inbreeding philosophy and the notion that after a decade they could still compete with the alleged best in Canada. I followed my own advice and took one of my inbred hens and mated that bird to another Janssen that was the product of another related and to some extent inbred line. This pigeon was of the line of the "Verbart 46" which makes him descendant from the famous Klak pair referred to above and therefore also related, certainly at a distance, to my inbred "Kanon line." Come race day in September of 2008 at the Empire Classic 350 mile race what was the result?
Well see for yourself!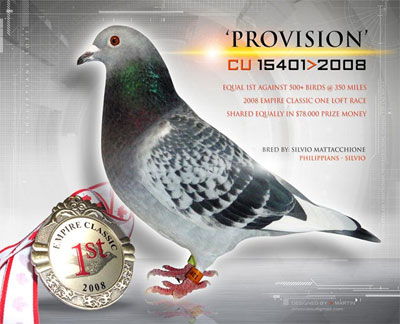 But this could have been a fluke, right? After all she was equal first against, what are alleged to be, the best pigeons in Canada at 350 miles. Well, that might just be the case, but three weeks later another one of my actual inbreds also scored 3rd at the "Empire Classic" 420 mile race again against the alleged best of the best.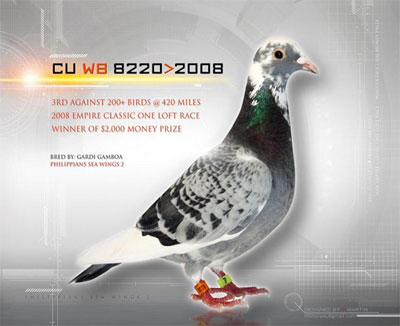 THE PERFECT PIGEON is that pigeon that is the product of an intensive inbreeding program instituted by a fancier with stock sense that has taken the time to thoroughly study the ancestry of his subjects then breed them according to a plan that sought to produce a classic pigeon according to a standard, then severely culled according to his standard of perfection. I have done so and exported my birds around the world helping others to enhance their own families of pigeons.St. Thomas and Deanna were truly a perfect pair and years after their deaths their descendants continue to win. Additionally they are beautiful as well.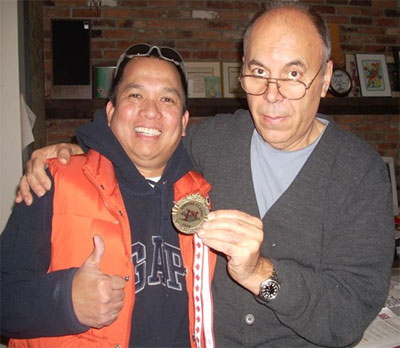 Figure 3 Gardi Gamboa pictured here with Silvio, did his research and chose to compete with an inbred line of Spanjaards pigeons and did so successfully!
Family Is Really All That Matters!
Whatever you may hear, whatever opinions are expressed the only thing that really matters in life is FAMILY. This is true of your personal life first and foremost! It is also true of the birds that you willingly choose to care for. In your personal life your family is the rock upon which you must build. All that you are, all that you will be, all that you can ever hope to be is, and has been influenced by your family.
In a very real sense all of these same considerations apply to your racing pigeons. All that they are, all that they will be, all that you can hope for, is in fact tied directly to family. That is why it is essential to thoroughly research the background of the pigeons that one would hope to acquire, Are they part of a recognized family of birds? If they are, was the family successful and did it have longevity? Were there highly motivated and dedicated fanciers and enthusiasts out there dedicated to, not only continuing but more important, improving a family over its many generations?
In the past great fanciers like Sion, and Bricoux. Fabry, Janssen, Stassart, Gurnay etc, cooperated to improve each others families! Look to improve your own family through similar cooperation. Friendship and family is the key to your continued success.
Visit Silvio-Co.com for valuable pigeon information!
Ashdon Farms
1251 Scugog Line 8
Port Perry, Ont. L9L 1B2
Canada
Phone: 905 985 3555
Fax: 905 985 4005
Email: silvio@silvio-co.com

---
Section Contents
Background on Silvio Mattacchione, his pigeons, his loft, and inbreeding program.
A group of articles and editorials addressing various aspects of the sport of pigeon racing and the history of Silvio's line of Spanjaards/Janssens pigeons.
Buy fantastic pigeon books online! Selections include The Will to Prepare by Robert Kinney, Rotondo on Racing Pigeons by Joseph Rotondo, and The Pigeon Guide by Dr. Jon Esposito and Shannon Hiatt.
Some of Silvio Mattacchione's own winning stock is for sale.
Sivio Mattacchione offers a wide range of racing pigeon consulting services and consults with owners as far away as Australia, Mexico, Taiwan, The Philippines and the United States. Each consultation is tailored specifically to meet the client's needs, and is conducted in as thorough a manner as possible.
Good causes supported by Silvio and the racing pigeon and parrot communities.
Clever pigeon pictures constructed of keyboard strokes by artist Jerry Downs.
Links to other racing pigeon sites including those of clubs, products, and information resources.
An easy way to navigate a series of pigeon web sites!
Silvio's e-mail, mail, phone, and fax contact information.