---
---
All material Copyright © 1996-2014 by Silvio Mattacchione & Co. unless otherwise noted.
The "Silvio's Pigeon Times" Newsletter by Silvio Mattacchione
Progress Through Genetics!

Newsletter Archives
I Made A Promise! Help Me Keep It.
Almost two decades ago I made a promise to myself, renewed in 1996
during my visit to Holland. Mrs. Gerrit Spanjaards was dying of
cancer. Though unable to see her, I had a message delivered to
her. I promised I would always do my best to give her husband,
Gerrit Spanjaards, much deserved recognition and credit for
developing a truly wonderful family of pigeons!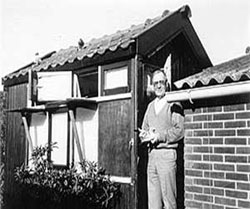 Mr.Spanjaards in front of his backyard loft. Flying in the Mill
Combine with 500 members. He was a perennial threat and champion!

I have attempted to fulfill my promise at every opportunity. Many
people across Canada, the USA, Australia and Asia are now
familiar with the name and background of this Dutch backyard
breeder who shot to fame in 1977 with a stunning victory in the
"National Orleans" race clocking a daughter of his now famous
"969" minutes ahead of the competition. This sister to "058" had
all that it took to gain success. Mr. Spanjaards never needed to
speak for his pigeons as they spoke admirably for him, with their
action! It is interesting to note that they now speak for many
people as well. Hopefully through this little newsletter we will
find out for just how many fanciers?

These fanciers are currently in Canada, the USA, Holland,
Germany, Taiwan,Australia, Mexico, Great Britain, China and more!
You are all part of my promise! The name that was only very
little known in 1985 is now better known each year!
Spanjaards Help Me To Get The Word Out

The World Spanjaards Society is currently made up of a very few
charter members. The founder is Mr. Silvio Mattacchione.

Additional supporting members and sponsors include Mr. Jim
McLean, Mr. John Solomon, Mr. John Yaconno, Mr. Nello Sirica, Mr.
Glen Shrader and others. It is my sincere hope that all of those
individuals who have purchased Spanjaards pigeons from whatever
sources will seek membership in our new society! We will share
our keen interest in this family as well as information. We will
collectively seek to take this family of thoroughbred racing
pigeons to the next level. Let's do it together!

The Goals Of The "World Spanjaards Society":

To promote the appreciation of that family of birds cultivated by Gerrit Spanjaards.
To document the breeding and racing success of this special family of racing pigeons.
Tragic Loft Blaze Claims Life of Champion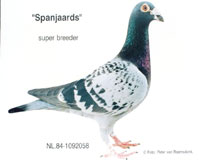 "058" bred 3 ace pigeons, and his son "1689" has now bred 23 sons

and daughters to win 1st place in 5 years!


Spanjaards (NL-84-1092058) Checker cock purchased in 1995. The
last of the original Spanjaards foundation cocks. Great-grandson
of the Janssen Brothers' "Oude Merckx" and "Janssen Duif".
Grandson of "Beig" (NL-69-6758673) and "Licht Kras." Son of "969"
(NL-74-813969) and NL-73-1404648. Brother to Mr. Spanjaards' 1977
National Orleans winner. Sire to three ace pigeons, including
"St. Peter" (NL-85-567887), who won lst Ace Pigeon Combine Middle
Distance with 41 prizes and a 1st Combine.

His line of offspring are housed in the loft of Jim McLean of
Bolton, Ontario, Canada, including sons and daughters "St. Peter"
(NL-85-567887), "Star Storm" (NL-87-1588585), "Star Attraction"
(NL-90-9029891), "Limited Edition" (CU-92-1689), "Electra"
(CU-93-TorFed-3133), "Accolade" (CU-95-29588), "Blue Thunder"
(CU-95-29598), and "Blue Star" (CU-95-29600).

His grandchildren and great-grandchildren have also proven to be
exceptional fliers and breeders, such as the 1st Combine winner
produced by son "Star Storm" (NL-87-1588585), the twenty separate
1st place winners produced by son, "Limited Edition"
(CU-92-1689), in only four years, and birds like NL-87-8717930,
"Nike" (CU-91-36800), "Brigantine" (CU-93-00373), CU-94-BVR-3022,
and many others.

"Spanjaards" (NL-84-1092058) died in a tragic loft fire in 1995
while owned by Jim McLean and Silvio Mattacchione.


Jim McLean Loves the Spanjaards Type


Jim Mclean loves his pigeons, of this I am sure. A former
Westerner he was sent to live with his father in Toronto when he
fell into a major river as he tried to capture young pigeons
under a bridge spanning this river.

Some 30 years would pass before Jim and I would meet at a local
auction in Toronto's East end. Jim had worked hard and developed
a successful carpet contracting company and along the way found
time to raise a wonderful family as well as champion show dogs!
He certainly knew type! He applied all that he knew of dog
breeding to breeding pigeons and in a very short time he and I
were partners.

Jim Mclean grew to love and appreciate the Spanjaards pigeons and
why not he has seen and together we owned the best including
"058", "The Fighter", "Zeus", "Peggy". He and I currently own
"Limited Edition" 1689 and many others together.


"Vermouth" is Alberta Bound!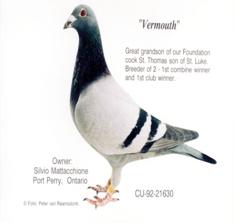 "Vermouth" breeder of Club and Combine is a son of "St.
Luke" who is a son of "The Fighter" who was a son of "St. Thomas"
"269" and "Deanna" "753".

A few years ago I was contacted by a young Albertan who indicated that
he was doing very well with a Spanjaards cock obtained in the
East from Mr. Al Migillis. He was quite intrigued with the
Spanjaards family and proceeded to tell me that several western
fanciers were really doing well with children of our "058" as
well as descendants of St. Thomas through his son "The Fighter".
Nello Sirica owns a son of "Mustang" "928" whose number is "681"
a soft powder blue with incredible intelligence and character.
This "681" has had great success in the west. I believe Nello
also has a full brother, a checker "695".I had owned both birds
in years past and was only too aware of their quality.

Well it seems that after much research, this young man Mr. Jim
Bednores decided he wanted something special. After giving him
several options he decided on "Vermouth" a great grandson of St.
Thomas.


St. Thomas "269" His Legacy Will Endure!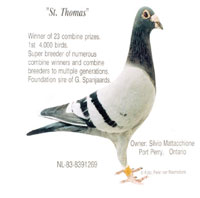 I was fascinated by the "Spanjaards" pigeons from the first time
I saw them in 1989.They were unique, definitely different. There
was something special a quality that I saw immediately.

Mr. Spanjaards was already terminally ill in 1989. A friend
brought the Spanjaards in and I went with him to the airport and
was totally smitten with these birds. I was able to photocopy the
pedigrees of all 64 birds that arrived. What a wonderful
resource. As I studied and studied these pedigrees it became
obvious to me that Mr. Spanjaards worked with two main lines.
Weaving them back and forth. These were the line of the "969"
through his son "058" and the line of the "Champion 13" through
his son St. Thomas "269".

St. Thomas was the sire to countless great birds including his
famous sons "the Fighter", "Zeus", "Mustang", "St. John", "St.
Mathew", "470" and many others as well as exceptional daughters
including "St. Joan", "St. Stephanie".

I once wrote that "most of us will never recognize a great
champion let alone own and breed from one." I was indeed
fortunate that I was able to care for and breed from this
exceptional individual. St. Thomas passed away in 2000 and my
children and I buried him in our flower garden under a beautiful
"Rose of Sharon Tree." A little plaque marks his final resting
place. Every time I see the flowers I remember our 17 year old
champion "269".


Nello Sirica/What took You So Long?


Many years ago I received a call from a young man. He indicated
that he wanted to purchase some of my Spanjaards.He already owned
a grandson of St. Thomas called "681". He was a soft powder Blue
and what character he had!

Nello asked me to choose some hens for him to breed from. I told
him to get on a plane and visit me as I was not in the habit of
sending my birds to people I had never seen personally. Almost 7
years would pass before he took the time to visit me personally.
When he finally arrived in 1999 I asked him "What took you so
long?" We both laughed.

Turns out this young Albertan has great ability to select
exceptional birds. Maurice Jemal declared, to Nello Sirica at the
Vegas Race in 2000 that "your hands are lethal weapons!"
Yes Nello does have a knack for selecting fine stock, Even
Campbell Strange knew this well. I smile because I know that
those lethal weapons consistently choose Spanjaards pigeons.


Deanna "753" Her Legacy Will Endure!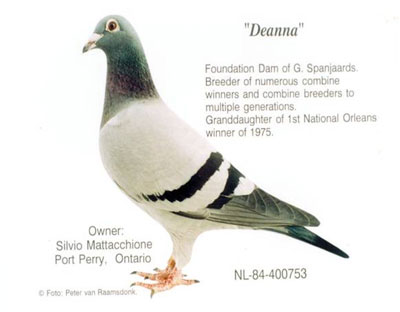 Deanna "753" dam to "the Fighter", "Zeus", "Mustang", "St. John",
"St. Mathew", "St. Joan". Our Foundation hen! She died in 1998.
She was the perfect compliment to "St. Thomas" (NL-83-8391269),
and is dam to my entire loft.

Deanna" (NL-84-400753), a blue hen, was also a direct Noel Coolen
and was one of the foundation dam to the Spanjaards / Janssen's.
Noel Coolen was very successful Dutch fancier who died at age 40
having won 2 times 1st Semi National Orleans.

Deanna was without a doubt the most exquisite hen that I -- or
for that matter, most people -- had ever seen. Her breeding was
impeccable, with two National Orleans winners in her pedigree,
including the 1975 National Orleans winner against 14,000 birds.
She was the perfect compliment to "St. Thomas" (NL-83-8391269),
and is dam to my entire loft. Together, they produced incredible
pigeons, including "Zeus" (NL-86-455451), "St. John"
(NL-86-455477), "Mustang" (NL-87-1587928), "The Fighter"
(NL-87-8717935), "St. Stephanie" (NL-89-2692462), "St. Mathew"
(NL-89-2692463), NL-89-2692468, "St. Joan" (NL-89-2692470),
"Sweetmeat" (CU-93-00340), "Kingston" (CU-93-00364), "Cobweb"
(CU-9300365), and "Stockwell" (CU-93-00399). Her children have
excelled at all distances from 100-600 miles.


Family Is Really All That Matters!


Whatever you may hear, whatever opinions are expressed the only
thing that really matters in life is FAMILY. This is true of your
personal life first and foremost! It is also true of the birds
that you willingly choose to care for. In your personal life your
family is the rock upon which you must build. All that you are,
all that you will be, all that you can ever hope to be is, and
has been influenced by your family.

In a very real sense all of these same considerations apply to
your racing pigeons. All that they are, all that they will be,
all that you can hope for, is in fact tied directly to family.
That is why it is essential to thoroughly research the background
of the pigeons that one would hope to acquire, Are they part of a
recognized family of birds? If they are, was the family
successful and did it have longevity? Were there highly motivated
and dedicated fanciers and enthusiasts out there dedicated to,
not only continuing but more important, improving a family over
its many generations?

In the past great fanciers like Sion, and Bricoux. Fabry,
Janssen, Stassart, Gurnay etc, cooperated to improve each others
families! Look to improve your own family through similar
cooperation. Friendship and family is the key to your continued
success.

Visit Silvio-Co.com for valuable pigeon information!
Ashdon Farms
1251 Scugog Line 8
Port Perry, Ont. L9L 1B2
Canada
Phone: 905 985 3555
Fax: 905 985 4005
Email: silvio@silvio-co.com

---
Section Contents
Background on Silvio Mattacchione, his pigeons, his loft, and inbreeding program.
A group of articles and editorials addressing various aspects of the sport of pigeon racing and the history of Silvio's line of Spanjaards/Janssens pigeons.
Buy fantastic pigeon books online! Selections include The Will to Prepare by Robert Kinney, Rotondo on Racing Pigeons by Joseph Rotondo, and The Pigeon Guide by Dr. Jon Esposito and Shannon Hiatt.
Some of Silvio Mattacchione's own winning stock is for sale.
Sivio Mattacchione offers a wide range of racing pigeon consulting services and consults with owners as far away as Australia, Mexico, Taiwan, The Philippines and the United States. Each consultation is tailored specifically to meet the client's needs, and is conducted in as thorough a manner as possible.
Good causes supported by Silvio and the racing pigeon and parrot communities.
Clever pigeon pictures constructed of keyboard strokes by artist Jerry Downs.
Links to other racing pigeon sites including those of clubs, products, and information resources.
An easy way to navigate a series of pigeon web sites!
Silvio's e-mail, mail, phone, and fax contact information.