---
---
All material Copyright © 1996-2014 by Silvio Mattacchione & Co. unless otherwise noted.
The "Silvio's Pigeon Times" Newsletter by Silvio Mattacchione
Progress Through Genetics!

Newsletter Archives
If "The Daylily" Is The Perfect Perennial, Then "PHAR LAP" Is The Perfect Pigeon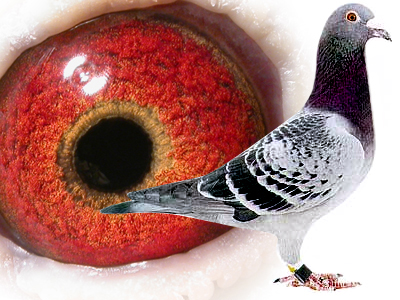 The Perfect Perennial

Daylilies are tough, persistent, relatively pest-free plants that adapt to any kind of soil. They come in a variety of shapes, sizes and colors giving your garden blooms from May through October. Known as one of the easiest plants to grow, they will grow in almost any soil but prefer either a neutral or slightly acid soil. Daylilies thrive best in direct sun or partial shade that receives at least 4-6 hours of sun a day. Daylilies can be planted anytime as long as they are in the ground well before it freezes.


THE PERFECT PIGEON


When I look at my daylilies I think of Phar Lap and his progeny - tough, persistent, disease resistant, adaptable to any environment, easy to manage and virtually indestructible. "The Perfect Pigeon"

The above comparison and description of Phar Lap was sent to me by Andrew Skrobot the Founder of The "Le Tour" race in New Brunswick on Tue 7/29/2003 2:51 PM. A complement that I will long remember.

Phar Lap (CU-97-OGB-2074)

Blue checker cock. Great-great-grandson of our foundation pair, "St. Thomas" (NL-83-8391269) and "Deanna" (NL-84-400753). Great-grandson of "Slade" (AU-82-314), a great-grandson of the "Donkere Stier" who was half-brother to the "Oude Merckx", and "St. Joan" (NL-89-2692470). Grandson of "St. Blaise"(CU-93-00377) and "Super 8" (NL-89-2149028). Son of "First Edition" (CU-95-BVR-4016) and "Thomasina" (CU-94-BVR-3093). Phar Lap in 1998 flew ten races in a row in a 9 week period, with several Thursday night shippings, from 130-550 miles, for a total of 4,737 kilometers. No other birds in the entire Combine were subjected to such a demanding workload! That is no other birds other than 13 loftmates to Phar Lap.At the end of these 10 races "Phar Lap" won 1st Champion Old Bird of the 1998 Kawartha Northshore Racing Combine and ist Champion old Bird of the Oshawa General Racing Pigeon Club. In 1998 I did not submit Phar Lap for any CU Awards however the bird that was second to Phar Lap ( and subsequently lost before the races ended) was submitted for and won a CU Award of merit.


There Really Is Joy In Giving! Try It You Might Like It. The Story of My Red "Phar Laps"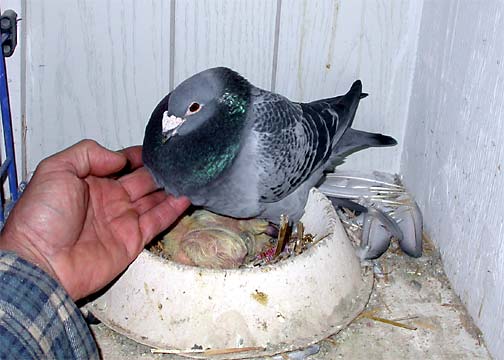 Little story... I sent one of my great cocks "Phar Lap" to New Brunswick to be bred by Andrew Skrobot the originator of the "Le Tour De Maritimes" Race Series. When Phar Lap was there he bred 2 red sons 190 and 191 that were sent to me as a gift by Andrew for having loaned him"Phar Lap." I gave 191 as a gift to Glenn Shrader in Florida and I bred from 190. So 190 was bred to one of my hens, a granddaughter out of the "St. Blaise" line (St. Blaise is the Grandsire of Phar Lap) and I gave both children in 2005 (#302 and #303) as a gift to Frank Blackburn a long time friend who races in the North Wings RPC (part of the Up North Combine, the largest combine in Canada, with 275 members). Additionally I gave #190 as a gift to a close friend Gardi Gamboa of Pickering, Ontario. In 2005 I gave Frank Blackburn a sister to my "Le Tour" second overall hen.This hen was #3199 (a great granddaughter of the "Kanon"). So Frank mated these two gift birds together (CU 2005-302 X CU 2004 OSH-3199) and in 2006 produces a Blue hen #0489. She flies fine as a youngster in 2006 and then is flown as a yearling in 2007.

She flies Hearst (747 km) and is 17th, flies Smooth Rock Falls (640 km) and is 7th, flies Point Au Baril (214 km) and is 15th, flies Engelhart (458 km) and is 15th. Then, on July 15th, she flies Long Lac 545 miles (872 km). She is 1st Club at a velocity of 1417.0737 (arriving in the rain) and is 3rd overall Up North Combine, flying 43 km further than the winner and 60 km further than 2nd place both of whom are north of the city and Frank is east and south of the city. So "Phar Lap and his decendants are living up to their genetic heritage! Who says that "Spanjaards Janssens" cannot fly the distance. Frank Blackburn knows first hand that they can... and they do!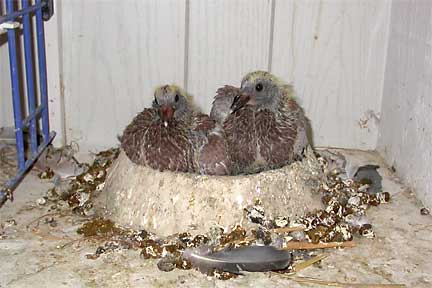 These Two Reds # 190 and #191 were direct children of Phar Lap when he was mated to "Skrobot's Red Baroness."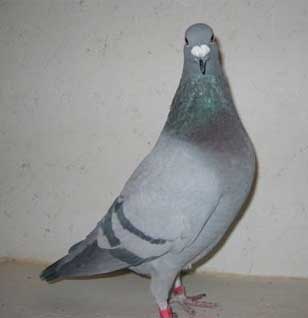 Frank Blackburn bred #0489 in 2006 as a yearling. She was 1st Club and 3rd Up North combine from Longlac 545 miles (872 km).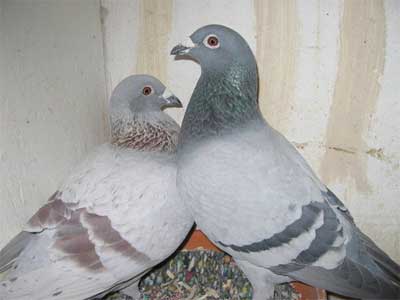 This is the pair of Spanjaards that I gave to Frank Blackburn as a gift that were mated together to breed Frank's Longlac winner in 2007.


Sun City Million Dollar Pigeon Race
Blue Panther 2nd National For Canada 229th Overall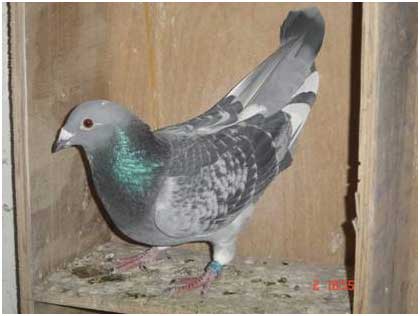 "Blue Panther" is Grandson of "Phar Lap" out of "Daylily" when mated to a direct daughter of Gliona's "Baron" that was sent to Africa at 28 days old. "Blue Panther" was in the money at 2006 SCMDPR against 4000 birds that were entered by the best breeders in the world,2242 birds went to the final race. The final race was flow from 691 Kilometers or about 398 miles. Only 100 birds on the day. "Blue Panther" returned very early morning of second day. After four days of rain only 1132 birds made it home. The 10th SCMDPR turned out to be a brutal race and as such the ultimate test of our breeding program against the best birds in the world! I am very proud of "Blue Panther" and so is "Clint van der Mescht" who purchased him in South Africa. Here are some of his current babies, virtually the first Spanjaards bred in South Africa.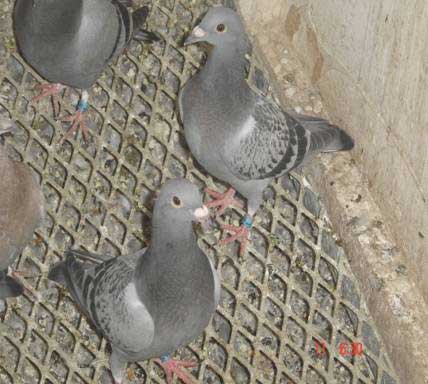 Blue Panthers first Youngsters Born In South Africa in 2006


"BRAVEHEART" EXPORTED TO TAIWAN


This young cock should prove an excellent addition to the gene pool that currently exists in Taiwan. He has proven his ability to race over water, further he has proven his ability to race week after week and remain at the top each week. This weekly ability to race is a quality much sought after by knowledgeable fanciers in Taiwan. Braveheart competed admirably in the "Le Tour" competion in New Brunswick. Even after suffering a terrible 400 he came back 9 days later to race 10th at the 500! This proves great heart, thus his name is very appropriate!

CU 15156/02 1st Sprint Champion and 3rd 100 km, 3rd 200 km, 2nd 200 km, 5th 300 km and 10th 500 km (day bird)

Bred by Silvio Mattacchione and flown by Silvio. For more on Silvio's birds see his web site at: www.silvio-co.com Le Tour Des Maritime is a futurity consisting of 7 races for a total of 2000 km of flying over one of the toughest courses in Canada.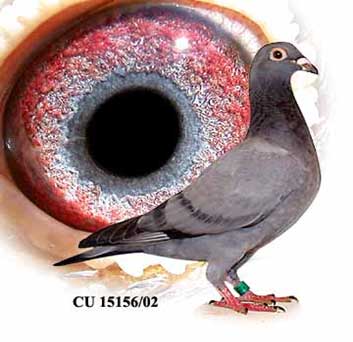 "BRAVEHEART" LE TOUR 2002 SPRINT CHAMPION


CU 15156/02 1st Sprint Champion and 3rd 100 km, 3rd 200 km, 2nd 200 km, 5th 300 km and 10th 500 km (day bird)

Disposition: As the youngest of the entries, this bird arrived to our loft in early June therefore not benefiting from darkening . He flew flawlessly during the first 5 races. Unfortunately this beautiful slate cock had a bad 400 km race arriving the 2nd day. However he more than redeemed himself by flying the 500 km on the day in 12:09:51 and placed 10th. This is a super handling medium sized cock with power to spare. I can't wait for this pigeon to molt out.


Bred and flown by Silvio Mattacchione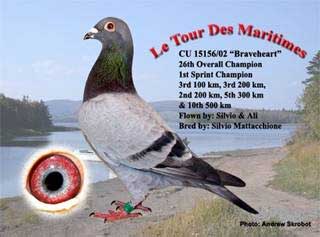 Limited Edition Breeds 23 Children To Win First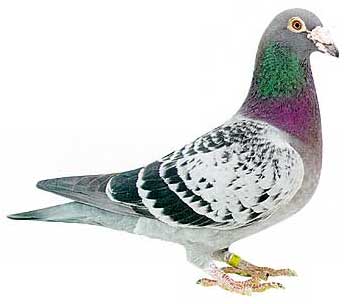 So just how good is "1689"? In only four years of breeding he has produced 23 direct children each of which has won 1st place." Twenty separate sons or daughters to win 1st! More important he also has the proven genetic heritage descending in a direct male line from the "Oude Merckx" of Janssen Bros. fame, to the "969" bred and raced by Gerrit Spanjaard producer of the 1977 National Orleans winner to his sire "058" the sire of three ace pigeons. This exceptional "1689" continues this phenomenal lineage and no doubt will before his breeding days are over surpass them all!

I have documented the claim made above. How many times have I heard, "yes he has bred a ton of winners", yet the ton is never quantified or qualified? Here is the proof! Just call or email me and I will happily send you a detailed list of all of his sons and daughters who are winners!

The above referenced 20 children of CU-92-1689 are all documented first place winners. As of November 2000 he has officially bred 23 children to win 1st place!

Unofficially he has now bred 33 sons and daughters to win 1st.

His sons are also breeding at an incredible level of excellence.


Family Is Really All That Matters!


Whatever you may hear, whatever opinions are expressed the only
thing that really matters in life is FAMILY. This is true of your
personal life first and foremost! It is also true of the birds
that you willingly choose to care for. In your personal life your
family is the rock upon which you must build. All that you are,
all that you will be, all that you can ever hope to be is, and
has been influenced by your family.

In a very real sense all of these same considerations apply to
your racing pigeons. All that they are, all that they will be,
all that you can hope for, is in fact tied directly to family.
That is why it is essential to thoroughly research the background
of the pigeons that one would hope to acquire, Are they part of a
recognized family of birds? If they are, was the family
successful and did it have longevity? Were there highly motivated
and dedicated fanciers and enthusiasts out there dedicated to,
not only continuing but more important, improving a family over
its many generations?

In the past great fanciers like Sion, and Bricoux. Fabry,
Janssen, Stassart, Gurnay etc, cooperated to improve each others
families! Look to improve your own family through similar
cooperation. Friendship and family is the key to your continued
success.

Visit Silvio-Co.com for valuable pigeon information!
Ashdon Farms
1251 Scugog Line 8
Port Perry, Ont. L9L 1B2
Canada
Phone: 905 985 3555
Fax: 905 985 4005
Email: silvio@silvio-co.com

---
Section Contents
Background on Silvio Mattacchione, his pigeons, his loft, and inbreeding program.
A group of articles and editorials addressing various aspects of the sport of pigeon racing and the history of Silvio's line of Spanjaards/Janssens pigeons.
Buy fantastic pigeon books online! Selections include The Will to Prepare by Robert Kinney, Rotondo on Racing Pigeons by Joseph Rotondo, and The Pigeon Guide by Dr. Jon Esposito and Shannon Hiatt.
Some of Silvio Mattacchione's own winning stock is for sale.
Sivio Mattacchione offers a wide range of racing pigeon consulting services and consults with owners as far away as Australia, Mexico, Taiwan, The Philippines and the United States. Each consultation is tailored specifically to meet the client's needs, and is conducted in as thorough a manner as possible.
Good causes supported by Silvio and the racing pigeon and parrot communities.
Clever pigeon pictures constructed of keyboard strokes by artist Jerry Downs.
Links to other racing pigeon sites including those of clubs, products, and information resources.
An easy way to navigate a series of pigeon web sites!
Silvio's e-mail, mail, phone, and fax contact information.